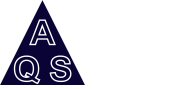 IT Consultancy
AQS can assist with all your IT requirements including:
On site support and advice including fault diagnosis and swift, cost effective rectification
Advice and supply of new hardware & software including from a simple printer to design, supply and
installation of entire IT systems including servers, PCs, network infrastructure, security and backup
solutions to maximise flexibility, minimise downtime during a fault and ensure important data is never lost.
Design of bespoke forms and transferring business process from paper to computer including user
specific macros to minimise user input required and maximise flexibility and use of inputted data.
Domain registration and web site design.